The Ambassador of Uzbekistan presents the credentials to the President of Italy
Local
−
20 November visibility1468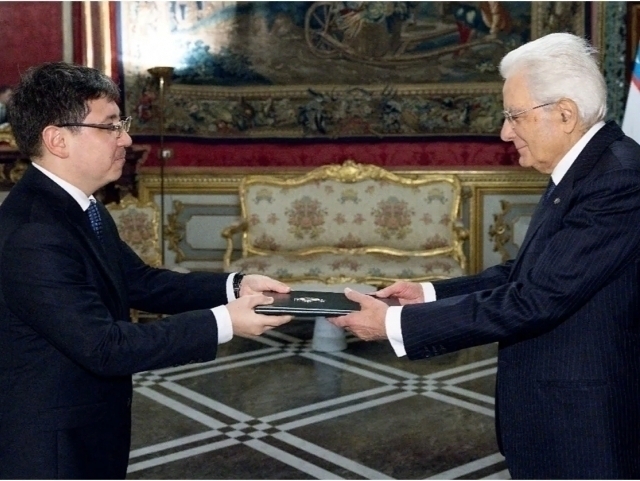 The newly appointed Ambassador of Uzbekistan, Abat Faizullayev, presented his credentials to Italian President Sergio Mattarella, as reported by the "Dunyo" news agency.

The solemn ceremony took place at the Quirinale Palace, the official residence of the President of Italy in Rome. During the meeting, President Mattarella reminisced about his official visit to Uzbekistan from November 9th to 11th of this year, expressing his unforgettable impressions.

Both sides emphasized their mutual interest in enhancing political, trade, economic, and cultural cooperation between Uzbekistan and Italy.

Wrapping up the meeting, President Mattarella praised Uzbekistan's rich historical and cultural heritage, particularly mentioning the allure of ancient monuments in Samarkand and Khiva, which he had the opportunity to visit.

Abat Faizullayev previously served as the Ambassador of Uzbekistan to Austria from 2020 to 2023 and also held a diplomatic mission in Hungary on a temporary basis. Concurrently, he served as the permanent representative of Uzbekistan to the Organization for Security and Cooperation in Europe and other international organizations in Vienna.

The 40-year-old diplomat is a graduate of the University of World Economy and Diplomacy under the Ministry of Foreign Affairs of Uzbekistan and Tashkent State University of Economics. His professional journey includes various roles within the Ministry of Foreign Affairs and the Uzbekistan Embassy in the United States. He also served as the assistant minister of foreign affairs and head of the secretariat.

Faizullayev's appointment replaces Otabek Akbarov, who led the Uzbekistan diplomatic mission in Rome from 2018 to 2023.
---