Saida Mirziyoyeva gave a speech at the UN
Local
−
24 March visibility16271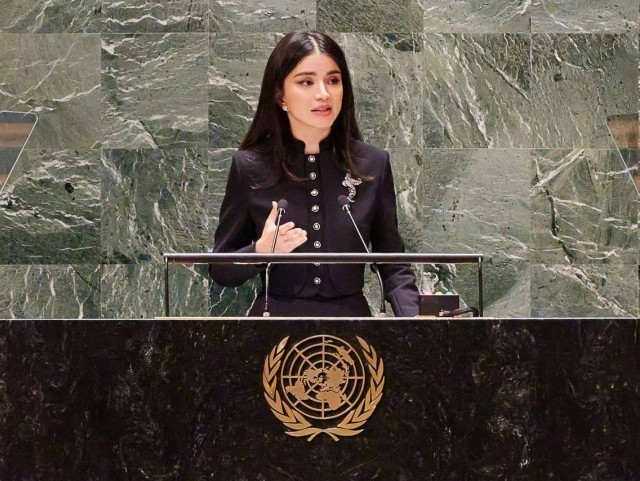 Yesterday, the 23 March, at the high-level plenary session of the conference on water issues at the headquarters of the UN, the member of the delegation of Uzbekistan, the head of the branch for communications and information policy of the Executive Office of the Presidential Administration of Uzbekistan, Saida Mirziyoyeva, gave a speech. Slade spoke at the UN podium about the consequences of the Aral Sea tragedy, the large-scale work carried out by Uzbekistan to mitigate them, and Uzbekistan's leadership in unifying international efforts in this regard.
It was reported that the international community gathered for the first time after a 45-year break at a conference dedicated to water issues. This issue is extremely urgent: by 2050, 5 billion people of the world's population may suffer from water shortages.
Saida Mirziyoyeva emphasized that Moynaq on the Aral coast used to be a port city with large production capacities, but later the balance was disturbed and the dead shores of the sea became a ship graveyard. To read between the lines, it described the shores were turning into a desert.
When talking about the measures implemented by Uzbekistan, it was said that more than 14 million dollars have been allocated to finance the region, increase its economic potential, most importantly, restore the health of the tenacious Karakalpak people, to create green parks in the region.
The fortitude, hard work, and creativity of the people of Karakalpakstan, who are directly experiencing the consequences of the tragedy, were specially recognized. In the harsh conditions of the region, attention was paid to the fact that women, in particular, need strong care and support, and the need to expand opportunities for them.
Also, Saida Mirziyoyeva posted on her social media channel that she went to the UN podium and gave a speech.
Speaking on behalf of Uzbekistan at the UN conference on water issues held in New York, I raised issues important for the Aral Sea region. Participation in this conference allowed our country to share problems and achievements in the field of water resources management, and to get acquainted with the advanced experience and practices of other countries.
In my speech, I noted the importance of culture and creativity in the fight against the ecological disaster of the Aral Sea. As part of the work in this regard, I introduced the Aral Culture Summit project, which includes large-scale educational and cultural programs, by the Fund for the Development of Culture and Art," says Mirziyoyeva.
---