Halima Yaqub Visited the Imam Bukhari Complex
Local
−
25 May visibility10228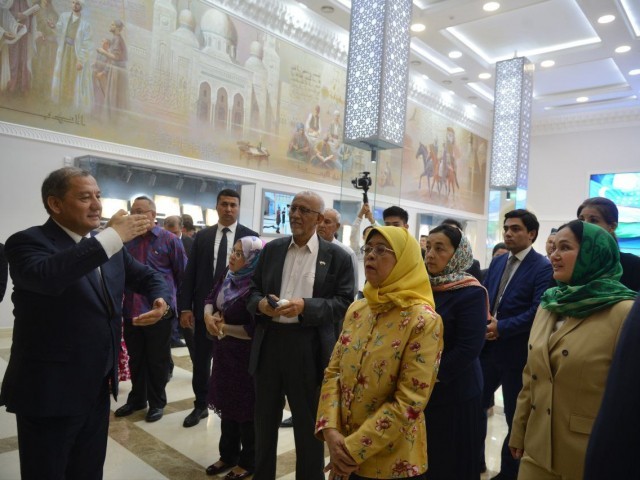 President Halima Yakub of Singapore commenced her visit to Samarkand with a visit to the Imam Bukhari complex, as reported by the regional administration. The esteemed leader explored the Imam Bukhari International Research Center and its accompanying museum to gain insight into their activities.
During her visit, President Yaqub learned about the research being conducted at the international center, which focuses on the invaluable contributions of renowned scholars from Uzbekistan. Under the initiative of President Shavkat Mirziyoyev, the center has made significant progress in publishing numerous historical books within a short span of time.
Continuing her itinerary, President Yaqub also paid a visit to the Hadis School, engaging in meaningful conversations with both teachers and students. She expressed high admiration for the conducive environment and opportunities provided to young individuals studying Hadith at the school.
Furthermore, Halima Yaqub honored the tomb of Amir Temur in Samarkand, acknowledging its historical significance.
It is worth recalling that President Halima Yaqub embarked on a two day state visit to Uzbekistan on the 23rd of May this year. She was warmly received at the airport by Deputy Prime Minister Zulayho Mahkamova and other officials from Uzbekistan. On the 24th of May, President Shavkat Mirziyoyev of Uzbekistan extended a cordial welcome to the Singaporean leader at the Koksaroy residence and invited her to the podium. During the summit, bilateral cooperation documents encompassing various fields such as economy, industry, tourism, and culture were signed between Uzbekistan and Singapore. As the interstate summit concluded, a tree planting ceremony took place at the Koksaroy residence. Futhermore, on the 25th of May, President Halima Yaqub embarked on a journey to Samarkand via the "Afrosyob" train.
---