The Presidents and first ladies of Uzbekistan and Azerbaijan met
Local
−
11 November 2022 visibility8434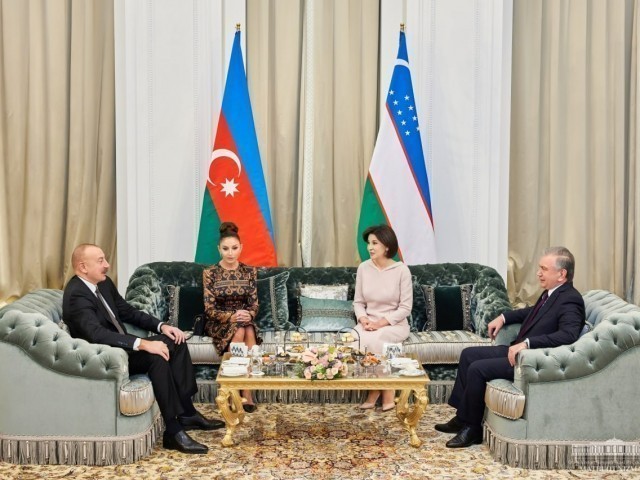 The President of the Republic of Uzbekistan Shavkat Mirziyoyev and his wife - the first lady Ziroat Mirziyoyeva met the President of the Republic of Azerbaijan Ilham Aliyev and his wife - the country's vice president Mehriban Aliyeva, who were in Samarkand. The meeting took place yesterday, 10 November.
Mehriban Arif's daughter Aliyeva was born on 26 August 1964, in Baku, Azerbaijani state. A political, and public figure, she is the first vice president of Azerbaijan since 2017.
She is also the president of the Azerbaijan Gymnastics Federation, the head of the working group on Azerbaijan-France inter-parliamentary relations, and the president of the Heydar Aliyev Foundation and the Friends of Azerbaijan Culture Foundation.
She is the mother of two daughters and one son.
Ziroat Mahmudovna Mirziyoyeva was born on 4 December 1957 in Kokan.
She is Chairman of the Board of Trustees of "Zamin" International Public Fund.
She is the mother of two daughters and a son.
At the same time, in addition to the head of Azerbaijan Ilham Aliyev, who came to Uzbekistan to participate in the summit of the Council of Heads of State of the Organization of Turkic States, which is being held in Samarkand, the wife of the President of the Republic of Turkey, Rajab Tayyip Erdogan, and first lady Emina Erdogan is accompanying him. Hungarian Prime Minister Viktor Orbán also visited with his wife Aniko Levai.
---