Ibrahim Raisiy sent a letter full of poems and comments to Mirziyoyev
Local
−
22 March visibility7115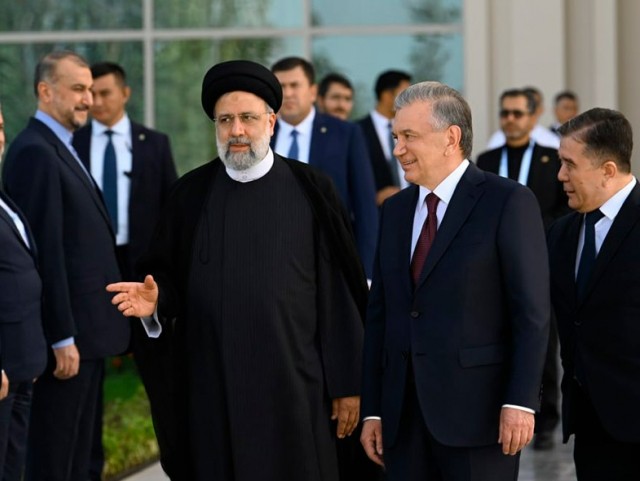 On the occasion of Navruz holiday, the President of the Republic of Uzbekistan Shavkat Mirziyoyev continues to receive congratulatory letters from the heads of state and government. The President of the Islamic Republic of Iran Ibrahim Raisi sent a letter full of poems and comments to Shavkat Mirziyoyev.
Raisiy Mirziyoyev expressed his great pleasure in congratulating the people of Uzbekistan on the occasion of the awakening of nature, the beginning of the Hijri-Shamsi year 1402, and the arrival of the ancient Navruz. Schools started the day with Hafiz Shirazy's verses.
"Spring is the period of transformation of the Mother Earth and nature, the season of renewal and rebirth, a symbol of the aspiration of the contemplatives to see the beauty of their Lord by observing one of the magnificent natural glimmers of the universe. Navruz, a symbol of a rich culture and civilization with a history of several thousand years, and an ancient festival full of love, reminds of love, informs of greenery and purity, and awakens hearts. It is a phenomenon that shows the inexhaustible power of the Creator.
With the blessing of Kutlugh Navruz, great changes will take place in our people and their hearts. I hope that through the development and deepening of friendly relations between our countries, we will take a step towards the development and prosperity of our peoples through the age-old historical and cultural commonalities rooted in Navruz. In this direction, the Islamic Republic of Iran is ready to further cooperate with all countries of Navruz cultural region in order to strengthen peace and stability in the region and the world.
I ask the Almighty God to grant you, your Excellency, health and success, and the people of the Republic of Uzbekistan, a friend and brother, with happiness and prosperity, wishing that the new year will be a year full of blessings for everyone." the letter said.
It should be recalled that earlier the President of the USA Joseph Biden and the President of the People's Republic of China Xi Jinping, also sent holiday greetings to the President of Uzbekistan Shavkat Mirziyoyev.
---