Another tree massacre in Chilonzor: 58 trees were cut down
Local
−
08 September 2022 visibility10291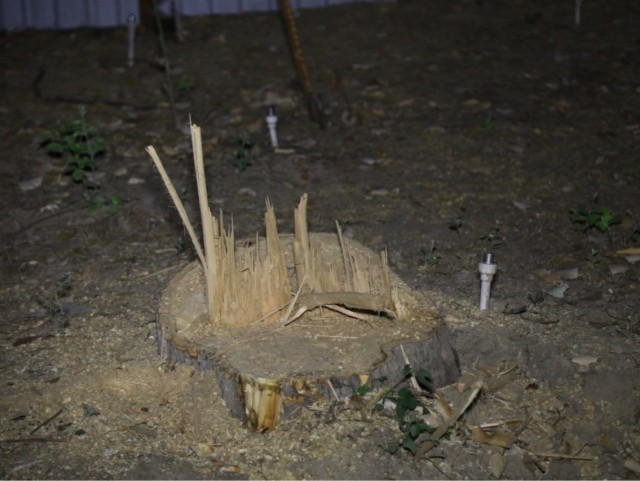 Yesterday, 7 September, news was distributed about the illegal cutting down of trees on Chilanzar Street, Chilanzar District, Tashkent. The State Committee for Ecology and Environmental Protection provided official information on the tree massacre.
As a result of the research carried out by the commission, it was found that this site belongs to a limited liability company "DREAM HOUSE STORY". This plot, allocated for construction, consists of a total area of 0.20 hectares of land and on January 20 of the current year, the state ecology inspectors conducted a complete inspection of the trees in the area, and a certificate was issued that there was a total of 58 ornamental trees of various types in the area.
It is noted that this document issued a warning to the organization LLC "DREAM HOUSE STROY" in the procedure established by the legislation on the non-cutting down of trees and the preservation of trees, as well as a letter of guarantee from the representatives of the company dated 20.01.2022. on not carrying out criminal acts against trees was taken.
On the 17 February 2022, LLC "DREAM HOUSE STROY" submitted an application for cutting down trees on the site through the service center "Single Window" The application was thoroughly examined by the Tashkent City Ecology Authority and rejected.
During the research carried out by the special working group this night, it was found that a total of 58 ornamental and fruit trees of different types the in the land belonging to LLC "DREAM HOUSE STORY" were cut down together with their root parts.
As a result of the failure to implement the measures provided for in the legislation on the protection and preservation of trees, the damage in the amount of 797,700,000 sums were caused to the flora.
Thus, as the requirements of article 37 of the law "On the Protection and use of the Plant World" were ignored and the legal appeals of the State environmental inspectors were not met, in accordance with the article 1976 of the Administrative Liability Code of the Republic of Uzbekistan and article 198 of the Criminal Code, the relevant documents were drawn up and sent to the law enforcement authorities for consideration of the issue of prosecution.
It should be recalled that during the reconstruction of Chilanzor Street in Tashkent, the roots of 7 oaks were damaged. In connection with this situation, criminal proceedings have been initiated under article 198, paragraph 3, of the Criminal Code (damage or destruction of fields, forests, trees, or other plantations) and investigations are being conducted.
After the trees were damaged, the district governor and the prosecutor were dismissed.
---