Mirziyoyev and Berdymukhamedov held a meeting in a narrow circle.  What did the presidents discuss?
Local
−
14 July 2022 visibility5646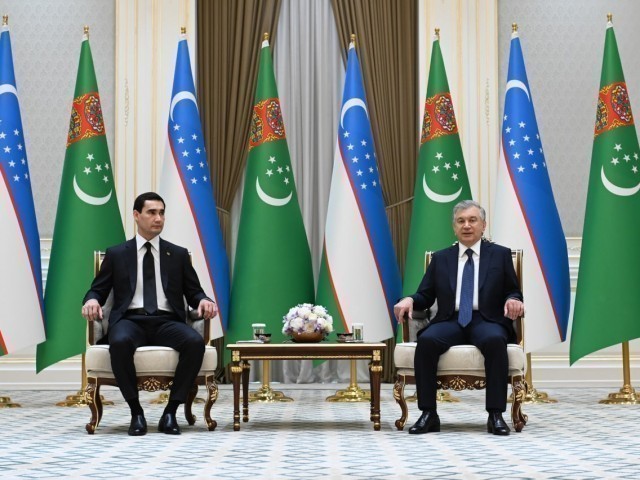 The president of Uzbekistan Shavkat Mirziyoyev and the president of Turkmenistan Serdar Berdymukhamedov held a meeting in a narrow circle at the "Kuksaray" residence today 14 July, following the official welcome ceremony.
Congratulating the high-ranking guest, Shavkat Mirziyoyev expressed confidence that this meeting will begin a new chapter in the history of Uzbekistan-Turkmenistan strategic partnership relations.
"The relations of the two countries are based on a strong friendship, good neighborliness, trust, and mutual support," - said President Mirziyoyev.
The leader of Uzbekistan once again congratulated the president of Turkmenistan on his victory in the presidential election held in March this year.
"The wise Turkmen people fully supported the continuation of large-scale reforms in the country and entrusted their future to you. There is no doubt that your knowledge and experience, energy, and leadership skills will serve to realize all the outlined plans," - said Shavkat Mirziyoyev.

Also, the president of Uzbekistan noted the incomparable contribution of Gurbanguly Berdimuhamedov, the Chairman of the People's Consultation of the National Council of Turkmenistan, to achieving a high degree of relations between the two countries and strengthening good neighborliness in the Central Asian region.

Shavkat Mirziyoyev noted with pleasure that due to joint efforts, positive momentum has been achieved in all areas of bilateral cooperation in recent years.
"I would like to note that for us, Turkmenistan is a reliable and important partner in the region. Our aspiration to further develop large-scale cooperation is firm, we intend to comprehensively strengthen strategic partnership relations with our closest neighbor," said the head of Uzbekistan.
The president of Turkmenistan expressed his gratitude for the hospitality and warm reception and conveyed the greetings of the Chairman of the National Council of Turkmenistan Gurbanguly Berdimuhamedov.
"Together with Gurbanguly Myalikgulievich, you built and strengthened the foundation of bilateral relations, and created a thorough political and legal framework for cooperation. This time our state visit is aimed at giving a new impetus to the strategic partnership, and I believe that we will achieve the set goals," said Serdar Berdimuhamedov.
During the meeting, the heads of state discussed the prospects of Uzbekistan-Turkmenistan cooperation, special attention was paid to the development of trade and economic relations, the increase of mutual trade, the implementation of industrial cooperation projects, and the use of transport and transit opportunities.
The parties noted that there is great potential in establishing interregional cooperation.
Opinions were also exchanged on issues of regional and international importance. It was emphasized that it is important to strengthen the atmosphere of trust, good neighborliness, and partnership established in Central Asia.
Serdar Berdimuhamedov invited the president of Uzbekistan to pay a return visit to Turkmenistan at his convenience.
---