Mirziyoyev held a meeting on issues of support for cotton cultivation
Local
−
23 January visibility7237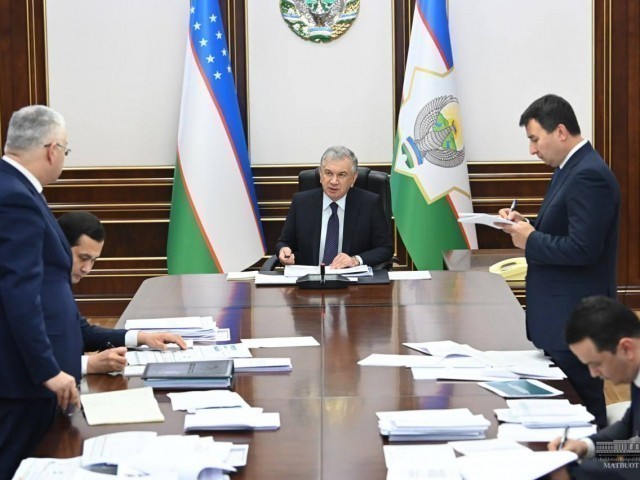 Today, 23 January, President Shavkat Mirziyoyev held a meeting on issues of supporting cotton cultivation. This was reported by the Presidential Press Service.
It is noted that 5 billion 300 million dollars have been invested in the industry by cotton-textile clusters, and 3 billion dollars of preferential loans have been allocated to them. 265 projects worth 4 billion dollars were launched by the clusters and 300,000 new jobs were created. As a result, the yield of cotton increased by 30%, from 26 centners to 34 centners.
"But there are also problems that are bothering the clusters and farmers. In particular, due to non-payment of value-added tax on time, the farms were in arrears. 7,000 farmers are forced to irrigate their cotton fields with pumps. "There is no deadline for concluding futures contracts, and there is no transparent system for registering contracts," the report said.
At this meeting, the price of mineral fertilizers increased by 50% on average in the domestic market last year, and there was a shortage. Therefore, a proposal was made to extend customs privileges for mineral fertilizers for another 3 years.
Also, at the meeting, instructions were given to the officials on arranging the contracts between the cluster and the farmers, settling the accounts, coordinating cotton and grain production. Penalties charged to farms for non-payment of value added tax on time are set to be written off as an exception.
At the meeting chaired by the president, the task of registering futures contracts in the electronic information system of tax authorities and integrating them into the information system of the Ministry of Agriculture "Agroplatform" was also set. It is envisaged that the analysis of the average monthly futures quotations of the New York Stock Exchange will be published on the website of the Ministry of Agriculture.
In addition, at the meeting, it was emphasized the need to launch scientific institutes in the field of cotton production and localize productive and low-water varieties used abroad.
---