The President of Italy visits Uzbekistan
Local
−
06 November visibility7173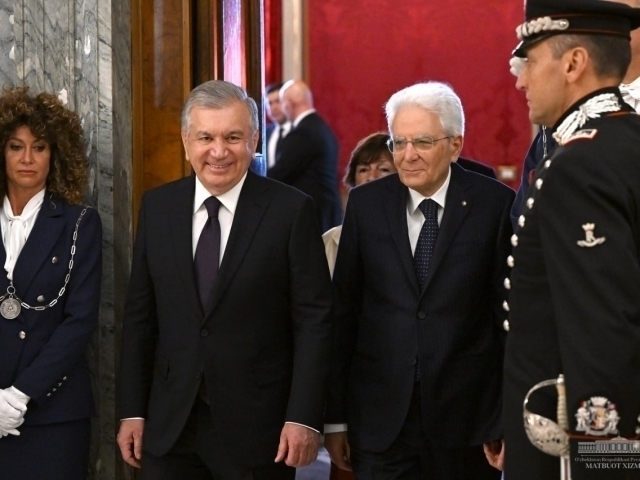 Italian President Sergio Mattarella will visit Uzbekistan on November 9th of this year. This was reported by the "Nova" agency.

It was reported that Italian President Sergio Mattarella is embarking on a bilateral mission to South Korea and Uzbekistan to strengthen the country's prospects in Asia and cooperate with two countries of great strategic importance in the current international panorama.
The mission will officially begin on November 7th in Seoul. There are plans to lay flowers at the National Cemetery and visit the National Museum of Korea. On November 8th, the delegation will visit the Panmunjom Joint Security Area, a demilitarized zone on the border with North Korea.

Simultaneously, there will be a meeting with South Korean President Yoon Suk-Yeol, followed by negotiations with the participation of official delegations.

Discussions will also cover pressing international issues, including the Israeli-Palestinian conflict, China's growing power in the South China Sea, and the war in Ukraine, which are also widely discussed in Uzbekistan.

On November 9th, the head of Italy will arrive in Uzbekistan.

"Cooperation with Tashkent is of particular importance for Italy, especially due to the strategic position of the country, located in the region of historical contact between Europe and the Far East, as well as with large regional states like Russia and China. Italy and Uzbekistan are also engaged in a series of negotiations on investment protection and scientific and cultural cooperation, the progress of which will be assessed at the meeting scheduled for November 10th in Tashkent with Mattarella's Uzbek counterpart Shavkat Mirziyoyev," the message stated.

On the same day, Mattarella is scheduled to visit the Polytechnic University of Turin, which will allow for an assessment of the progress made in university exchanges, economic and technological developments, and new potential directions of cooperation.

The visit will conclude on November 11th in Samarkand, Uzbekistan.

We remind you that on June 7th of this year, the President of the Republic of Uzbekistan, Shavkat Mirziyoyev, paid an official visit to the city of Rome at the invitation of Italian President Sergio Mattarella. During this visit, Mirziyoyev held talks with Italian President Sergio Mattarella and Prime Minister Giorgia Meloni.
---