Is Alisher Usmanov Putin's man?
World
−
21 February visibility16322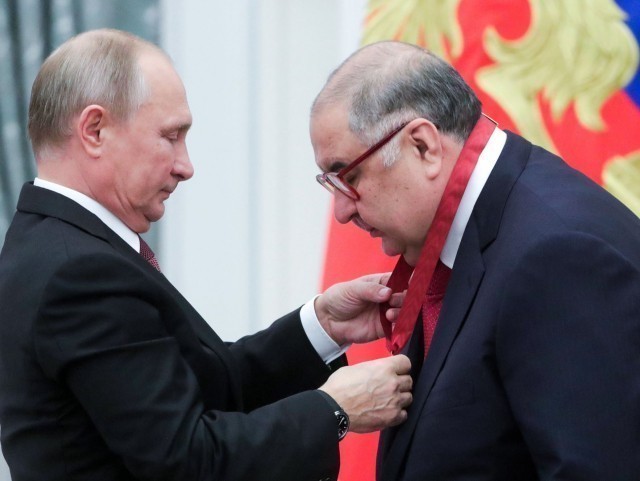 Russian billionaire Alisher Usmanov strongly denied that he had close ties with Vladimir Putin. He spoke about this in an interview with the journalist of the Italian TV channel "TGcom24" in Tashkent.
Usmanov answered the TV journalist's question about being subject to EU sanctions as an oligarch close to Putin after the start of the war in Ukraine as follows:
"This question is the second part of the accusations that I am not only an oligarch but Putin's "favorite" oligarch. I have never had such connections. I have lived in Russia for more than 35 years. During this time, I have come a long way from a young student to one of the most important and wealthy businessmen in the country."
He also called Uzbekistan his "motherland" and emphasized that he prioritizes his country's interests.
"Yes, I have assets in Russia. Yes, I admit it, and yes, I am also a citizen of Russia, but I live for the interests of my country. I'm retired, I donate, I get dividends from my investments. What can be wrong with a person who declares all his income down to the last penny?"
In this way, the Russian billionaire praised Italy and sharply criticized the European Union.
"Fortunately, in Italy at least they read the documents submitted by our lawyers. In some European countries, they don't want to read the documents, but they say you're guilty and that's it. Moreover, as for the sanctions against my sisters, they have lived in Uzbekistan all their lives and have nothing to do with the Russian Federation. Thank God, the European authorities have already lifted the sanctions against one of my sisters. But the fight is not over yet. I hope that at least justice will prevail in the court, although I did not want a trial and I don't want it," - Alisher Usmanov said.
For reference, Alisher Usmanov is the founder and the largest shareholder of USM Group, which includes "Metalloinvest", "Udokan Copper", and "Megafon". According to Forbes, he ranks seventh on the list of the richest Russian billionaires. The magazine estimates his net at 11.5 billion dollars.
However, the past year 2022 was very incredible for Usmanov. Since February 24, the billionaire has been included in the sanctions list of the National Security and Defense Council of Ukraine, the United States of America, and the European Union.
In November, German authorities confiscated 30 original works of art, including a work by artist Marc Chagall, worth five million euros, believed to belong to Alisher Usmanov.
In addition, his $600 million yacht Dilbar, which was sanctioned in March, was later seized due to Russia's invasion of Ukraine.
In December, it was reported that the underground warehouses of Russian oligarch Alisher Usmanov's company, where more than 160,000 tons of Ukrainian iron ore worth about $54 million were stored, were blocked by the government of Ukraine.
It should be reminded that Alisher Usmanov said that he would use all his capabilities to help Uzbekistan and benefit it, for this he left the management of corporate assets and even ended his participation in many projects as a shareholder.

---