Negotiations held between Uzbekistan's President Mirziyoyev and Emir of Qatar
Local
−
06 June visibility3784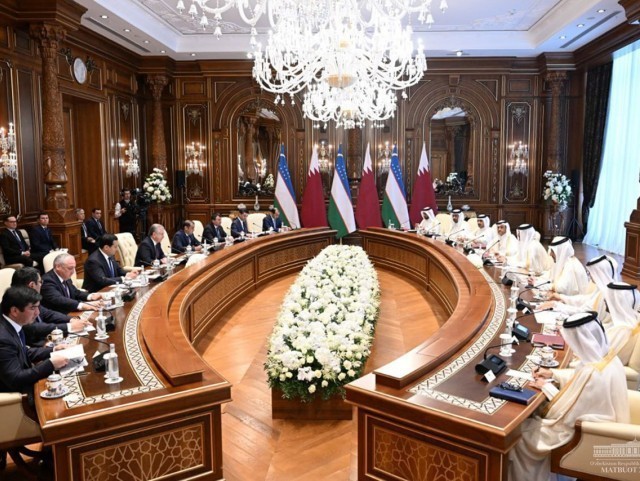 Samarkand, Uzbekistan - In a significant diplomatic development, President Shavkat Mirziyoyev of the Republic of Uzbekistan engaged in fruitful negotiations with Sheikh Tamim bin Hamad Al Thani, the Emir of Qatar, at the prestigious Congress Center in Samarkand. The Presidential Press Service reported on the successful talks that took place.
The discussions primarily focused on fostering political dialogue, cultural-humanitarian exchanges, and expanding trade, economic, and investment cooperation between the two nations.
At the commencement of the meeting, Sheikh Tamim bin Hamad Al Thani expressed his gratitude to President Shavkat Mirziyoyev for extending the invitation to visit Uzbekistan and for the warm and heartfelt reception extended to the Qatari delegation.
This landmark visit, marking the first in the history of diplomatic relations between the two countries, is expected to initiate a new era of bilateral cooperation, elevating it to the level of a comprehensive partnership.
"We consider Qatar to be a promising partner, not only in the Middle East but also within the wider Arab-Muslim world. Over the past few years, our relationship has undergone significant positive changes due to our ongoing communication," stated the Uzbekistani head of state.
Acknowledging the crucial role played by the Qatari embassy's opening in Tashkent earlier this year, both parties expressed confidence that the forthcoming establishment of the Uzbekistani Embassy in Doha will further accelerate and strengthen bilateral cooperation.
The successful negotiations between President Shavkat Mirziyoyev and the Emir of Qatar serve as a testament to the commitment of both nations to deepen their ties and explore new avenues of collaboration, thereby heralding a promising chapter in their diplomatic relations.
---