Mirziyoyev invites Fumio Kishida to Uzbekistan
Local
−
09 June 2022 visibility8198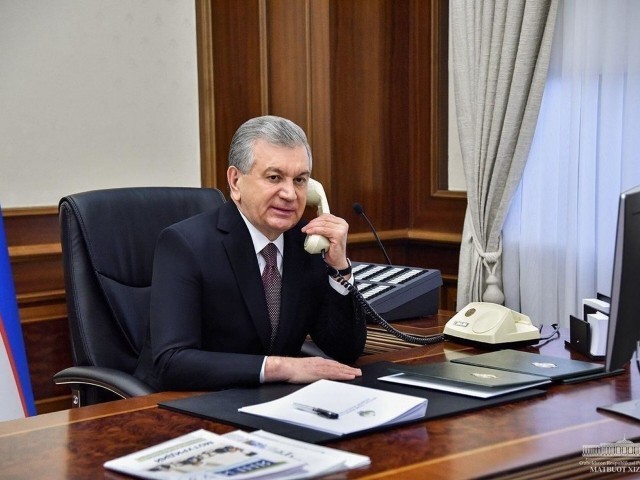 Today 9 June, the president of the Republic of Uzbekistan Shavkat Mirziyoyev held a telephone conversation with the prime minister of Japan Fumio Kishida.
During the talks, the sides discussed issues of further development and expansion of multifaceted Uzbek-Japanese cooperation, as well as topical issues on the international and regional agenda.
The leaders congratulated each other sincerely on the 30th anniversary of the establishment of diplomatic relations between the two countries and the 20th anniversary of the strategic partnership between Uzbekistan and Japan.
It was noted with great pleasure that the summit held in December 2019 in Tokyo and high-level talks brought bilateral relations to a qualitatively new level and enriched their practical content.
The president of Uzbekistan expressed sincere gratitude to the prime minister and the government of Japan for the comprehensive support of irreversible reforms in Uzbekistan. It was stressed that the Japanese Agency of JICA and the Bank for International Cooperation (JABIC) provided over $7 billion within the framework of financial and technical assistance.
In addition, the outcomes of the fruitful meetings and negotiations of governmental delegations this year were assessed positively.
The leaders stressed the importance of further expansion of practical cooperation and promotion of projects in the spheres of innovation, "green economy", digital technologies, science and education, programs of cultural and humanitarian exchange, and inter-parliamentary dialogue.
It was agreed to organize a large-scale exhibition of Uzbekistan at the world exhibition "EXPO 2025" in Osaka.
The negotiations also touched upon issues on the international agenda.
The prime minister of Japan was thankful for Uzbekistan's support of Japan's permanent membership in the UN Security Council, the denuclearization of the Korean peninsula, and the return of abducted Japanese citizens.
The president of Uzbekistan congratulated the Japanese side on the successful holding of the Kumamoto Water Summit and expressed support for the priorities of practical cooperation in Asia put forward by the prime minister of Japan to achieve sustainable development and prosperity in the wider region.
In turn, Prime Minister Fumio Kishida praised Uzbekistan's initiatives to build confidence, good neighborliness, and comprehensive partnership in Central Asia, as well as its support for lasting peace and economic recovery in Afghanistan.
It was noted that both sides are interested in the realization of all potential mutually beneficial cooperation within the framework of the Dialogue «Central Asia + Japan».
At the end of the negotiations, President Shavkat Mirziyoyev invited Prime Minister Fumio Kishida to visit our country on an official visit.
As always, the telephone conversation between the leaders of Uzbekistan and Japan was open, friendly, and conducted in a cheerful manner.
---