The president awarded a group of neighborhood activists
Local
−
22 March visibility4854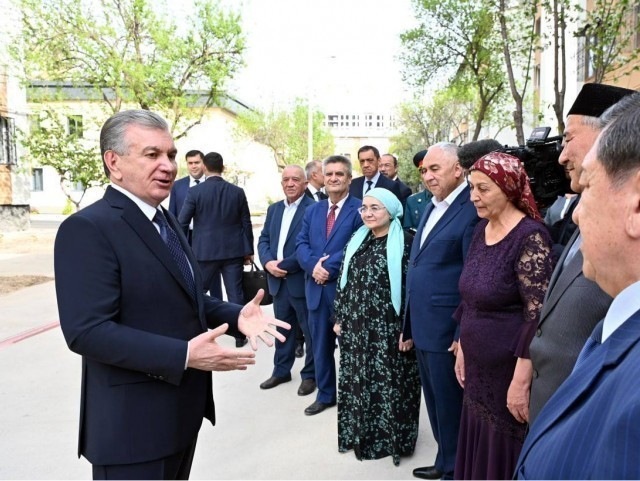 The President of the Republic of Uzbekistan Shavkat Mirziyoyev signed a decree on awarding a group of system devotees on the occasion of 22 March – the Day of Neighborhood System Employees.
Decree of the President of the Republic of Uzbekistan
Further development of civil society by raising the activity of self-governing bodies to a new level in our country, increasing the place and prestige of the neighborhood based on the noble principle of honoring human dignity, successfully implementing large-scale reforms in our country, socializing the population great services in terms of support, strengthening mutual solidarity among our people, preserving our centuries-old traditions, ensuring the stability of the spiritual environment and promoting a healthy lifestyle in families, raising our children. The following should be awarded for their worthy contribution to education in the spirit of love for the motherland and respect for national values:
With the Order of "Labour Fame".
Niyetullayev Tengelatdin Seydullayevich – activist of the advisory group of the elderly of "Erkindaryo" ovul citizens' meeting in Bozatov district, Republic of Karakalpakstan
Saidova Dilbar is an activist of the public council of the "Jizzakhlik" community of citizens of the Sharof Rashidov district, Jizzakh region.
Saydullayev Saydislom Khabibullayevich – head of the farm "Yakutkhan-Said" in Boka district, Tashkent region
Sayfullayev Talip Vakhabovich – adviser to the head of the department of neighborhood and intellectual support of Yakkasaray district, Tashkent city
Shaymuratov Ibodulla Akanovich – Chairman of the citizens' assembly of "Kaldirgoch" neighborhood of Bandikhon district, Surkhandarya region
Shomurotov Tavakal Ergashevich – Chairman of the Citizens' Assembly of "Bobokhuroson" neighborhood of Marhamat District, Andijan Region with "Dostlik" Order
Abdullayev Anvarkhan Akhmadkhanovich – head of the farm "Ahmadkhan Haji Kosoniy" in Kosonsoy district, Namangan region
Ashirova Oysara Toirovna – an activist on the council on spiritual and educational affairs of the "Dorman" community of citizens of Karmana district, Navoi region
Begmuratov Jumabay Nurgeldiyevych – Chairman of the Citizens' Assembly of "Aqqamish" Village of Tortkol District, Republic of Karakalpakstan
Saidalim Boltakov – chairman of the "Lolazor" village assembly in Zafarabad district, Jizzakh region
Jalilov Shukhrat Umirzakovich – chairman of the "Kurgontepa" neighborhood assembly of Sardoba district, Syrdarya region
Israilova Makhfuzakhan Numanovna – women's activist of the "Sanoatchilar" neighborhood of Khojaabad district, Andijan region
Narziyeva Gulnora Abdullayevna – Chairman of the Citizens' Assembly of "Bozachi" neighborhood of Qarovulbazar District, Bukhara Region
Odirov Nurillo Ziyadullayevich – chairman of the citizens' assembly of "Esaboy" neighborhood of Koson district, Kashkadarya region
Ramazanova Durdona Akhmedovna – Chairman of the Women's Advisory Council of Yangibozor district, activist of the "Smart Women" movement, Khorezm region
Ruziyeva Tatyana Viktorovna is the head of the professional management company "Temur Termiz servis" in the city of Termiz, Surkhandarya region
Sayfullayev Shuhrat Hoshimovich – Chairman of the Citizens' Assembly of "Sohibkor" neighborhood of Koshrabot district, Samarkand region
Akramjon Astanakulovich Yulbarsov is an activist of the Fergana Region Nurani Public Council
With the Order "For a Healthy Generation" II degree
Almatova Uktam Abdullayevna – Chairman of the citizens' meeting of Birdamlik neighborhood of Sergeli district, Tashkent city
Ziyayeva Zukhra Dzhabari girl – women's activist of "Arziktepa" neighborhood of Dangara district, Fergana region
With the Order of "Health" of the II degree
Bobokulova Kholbeka Normuradovna – patronage nurse of the family medical center "Uzbekistan" in Chirakchi district, Kashkadarya region
Sherimbetova Altinkul Serikbayevna – senior nurse of the Kulimbet family medical center in Tomdi district, Navoi region with the medal "For Loyal Services"
Zakhidov Elyorbek Tokhtasinovich – senior preventive inspector of the public security service of the internal affairs department of Jalakuduq district, Andijan region
Khudaiberdiyev Jakhongir Abdullayevich – chief preventive inspector of the 1st internal affairs department of the internal affairs department of the Lower Chirchik district, Tashkent region
With the "Courage" medal
Khakimov Azimjon Mamirdjonovich – shoe repair master at the "Bo'ston" neighborhood of Fergana district, Fergana region
Yusupov Ulugbek Dolmurotovich – an electric welder in the "Zangiboyi" neighborhood of Pastdargom district, Samarkand region
With the "Healthy Life" medal
Allamuratova Sharafat Sharipovna – Women's and girls' activist of "Koraburo" neighborhood of Zharkurgan district, Surkhandarya region
Kulmirzayeva Melikhol Uzakovna – women's activist of "Tallikuron" community assembly in Karshi district, Kashkadarya region
Yunusova Rakhima Lutpitdinovna – head of the group of "Barkamol Avlod" children's school in Namangan, Namangan region
With the "Builder of the Future" medal
Abdurasulov Jorabek Erkinovich – youth leader of the "Khalqabad" neighborhood assembly of Olot district, Bukhara region
Kurbanov Ziyodulla Botirovich – youth leader of the "Katta Kyshloh" neighborhood of Jomboy district, Samarkand region
With the "Fame" medal
Abdimannopov Abdulhafiz Abduhoshimovich – Assistant to the mayor of the "Saddatagi" neighborhood of Andijan district, Andijan region
Ataullayev Odiljon Kasimovich – Mayor's assistant in the "Chigirig" neighborhood of Nurafshan city, Tashkent region
Zhoraboyev Khurshid Abduvaliyevich – assistant to the mayor of the "Jom" neighborhood of Nurabad district, Samarkand region
Imamov Sanjarali Tolkinovich – general director of the limited liability company "Delicious food spices" in Chilonzor district, Tashkent city
Norboyev Otkurbek Sohataliyevich – Chairman of the "Sohibkor" Neighborhood Citizens' Assembly of Pop District, Namangan Region Rakhimov Jamshid Orifjonovich – Youth Leader of the "Independence" Neighborhood Citizens' Assembly of Mingbulok District, Namangan Region
Rakhimova Nigara Atabekovna – master of production training, seamstress of the Vocational Training Center of the "Kirqqizabad" neighborhood of Ellikkala District, Republic of Karakalpakstan
Kholmatov Ibrokhimjon Uktamovich – Chairman of the Citizens' Assembly of "Katta Kashkar" neighborhood of Uchkoprik District, Fergana Region
Khudayberganova Radho Allaberganovna – youth leader of the citizens' assembly of "Turkmanlar" neighborhood of Urganch district, Khorezm region
Hamrayev Hamidjon Bozorovych – activist of the public council of the "Khovosabad" community assembly in the Khovos district, Sirdarya region

---