An attempt to take over state administration bodies was noted in Nukus - Official statement
Local
−
02 July 2022 visibility51743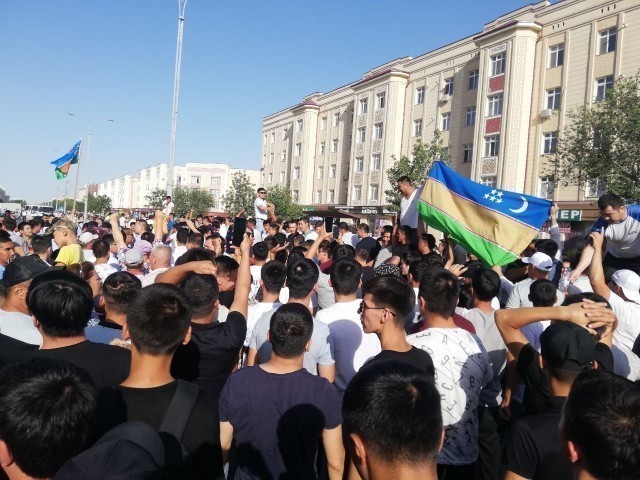 The Supreme Council of the Republic of Karakalpakstan, the Council of Ministers of the Republic of Karakalpakstan, and the Ministry of Internal Affairs of the Republic of Karakalpakstan issued an official statement on the events taking place in Karakalpakstan. It is noted that in Nukus, illegal actions were committed in the form of an attempt to seize the State administration.
"Despite the policy of openness and free expression of the idea in the Republic of Uzbekistan, on 1 July 2022, a group of criminal individuals organized illegal actions in the city of Nukus by attempting to seize state administration bodies of the Republic of Karakalpakstan.
By making use of populist slogans and manipulating the consciousness and trust of citizens, the organizers of the riots, disregarded the legitimate demands of the authorities, gathered citizens of the republic in the square in front of the administrative buildings of the Republic of Karakalpakstan.
The protesters, relying on the gathered citizens, tried to seize these state institutions and thus to cause discord in the society and to undermine the stability of the socio-political situation in Uzbekistan,"- the report said.
It is noted that strict measures were taken by law enforcement agencies, unlawful actions of the initiators were stopped, and the spread of attempts to organize mass disturbances was suspended.
"We are confident that our country has all the necessary potential to prevent further destabilization of the situation. A group of rioters and persons actively resisting law enforcement agencies was detained. They are currently under investigation. All instigators will be identified and prosecuted in accordance with the current legislation.

Unhealthy forces outside the republic have been shown to have influenced the development of the situation in Karakalpakstan, including targeted information attacks and deliberate distortions of events


In the current situation, we call for joint efforts to ensure public security and stability, to warn citizens against illegal actions, to resolve issues within the framework of the law," - said the joint statement.
---