Mirziyoyev takes Aliyev to the "New Uzbekistan" park (photo report)
Local
−
21 June 2022 visibility7119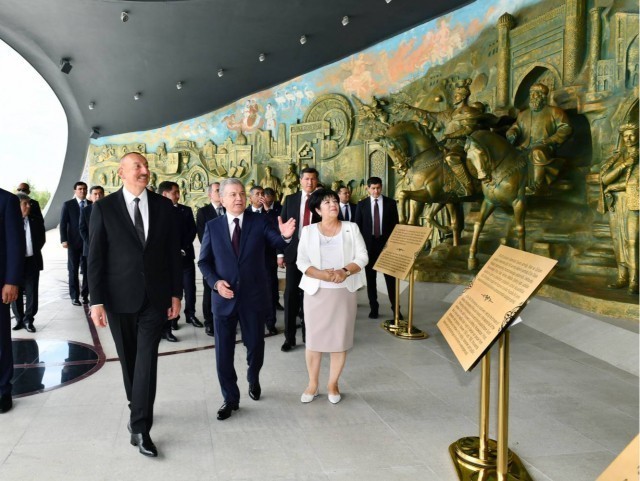 As we previously reported, the president of the Republic of Azerbaijan Ilham Aliyev arrived today in Uzbekistan on a state visit. After the opening ceremony of the park named after the national leader of Azerbaijan Heydar Aliyev, Presidents Shavkat Mirziyoyev and Ilham Aliyev went to "New Uzbekistan" park and laid flowers at the foot of the Independence Monument.
The guest was told about the content and architectural features of the complex.
The agenda of the presidential visit includes further strengthening of the Uzbek-Azerbaijani strategic partnership and expansion of multifaceted cooperation.
The leaders of the two countries will pay special attention to the expansion of bilateral trade, strengthening of cooperation between entrepreneurs and regions, promotion of joint investment projects in various sectors of the economy, effective use of opportunities in the field of transport and transit, the continuation of active cultural and humanitarian exchange.
In addition, the leaders of the two countries will exchange views on the international and regional situation, and discuss the development of active dialogue and mutual support within multilateral structures.
It is expected that a substantial package of bilateral documents aimed at strengthening practical cooperation in industry, transport, agriculture, energy, science and innovation, tourism, and other spheres will be signed according to the outcomes of high-level negotiations.
It should be noted that on the eve of the visit, business events are being held with the participation of leading companies and enterprises of Uzbekistan and Azerbaijan.
Bilateral trade and joint ventures have increased significantly in recent years. In 2021, trade turnover increased by 42%, and in January-May of the current year by 49%.
Last year, a production site for the assembly of Uzbek cars was launched in Azerbaijan. New cooperation projects are being implemented and developed in the silk, agricultural, construction, oil and gas, pharmaceutical, and food sectors.
---